Installation Guide for
DataArchiva
Who should read this document: Your Salesforce Administrators (includes IT Admins, IT Managers)
Doc version 1.2
Last updated: 28-May-2018
Table of Contents
DataArchiva is an archiving solution for Salesforce data and this document addresses in detail on how to install DataArchiva application.
If you want to learn more about DataArchiva setup & administration, please refer our DataArchiva administrative guide.
DataArchiva is available at Salesforce AppExchange. You can use the below link to install the app by following simple installation steps. You can also search by using the keyword "DataArchiva" in the AppExchange search option.
https://appexchange.salesforce.com/appxListingDetail?listingId=a0N3A00000EcrtNUAR

Click on the "Get It Now" button on the bottom right of the screen.
Select "Install for Admin Only" option to proceed with the installation process.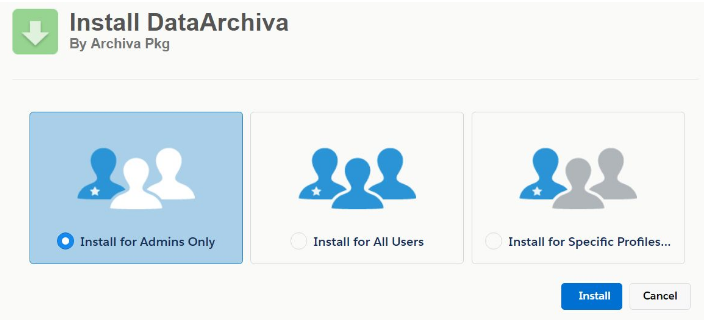 This will complete the installation.
Remote Site Settings
You need to add following two remote site URLs in order to run DataArchiva application.
From the setup, go to "Remote Site Settings" and add below provided URLs.
https://ceparc.<org id>.visual.force.com
https://<org id>.salesforce.com

Permission Set
DataArchiva comes with default permission set and this has to be assigned to the users, for them to access DataArchiva features.
From Salesforce Setup go to the Permission Set and click on the "DataArchiva".
Click on Manage Assignment and then on Add Assignments. It will display the list of users.
Select one or more users and click on "Assign".

Once a user is assigned with the Permission Set, the user will be able to use DataArchiva features.